Remote Learning
The way that students can access remote learning has been adapted and updated from September 2021. This is to enable students to access and complete high quality remote learning if they cannot to come into College.
There is no expectation that students who are unwell to complete remote learning.
Aims of remote learning:
To provide rigorous and contemporaneous subject specific resources which will enable students to consolidate their understanding.
To provide genuinely worthwhile resources and guidance that benefit learning.
To provide opportunities to revisit prior learning to build confidence and strengthen understanding for when students return to the classroom.
Spring Term 2023
Remote Learning Guidance:
If a student is not able to come into school, it is important that they use their time at home to strengthen and deepen their understanding of the topics they are currently learning.
Whilst absent from school, students are expected to:
Check their timetable and look at the subjects they have on that day.
Use topic timelines for each subject to remind themselves of what they have been learning (example from maths below).
Complete the following steps:
Visit Oak National Academy or follow the useful links below and find the lesson/resource which covers the topic for each subject.
Work through the relevant lesson or section of the website, making detailed notes (and complete each task within the video if using Oak National Academy).
Year 7-9 students: visit KS3 Bitesize and find the relevant section. Add to notes and complete the quiz at the end of the topic section.
Year 10-11 students: log-in to GCSE Pod and work through at least two pods.
Additional subject specific resources can be found below: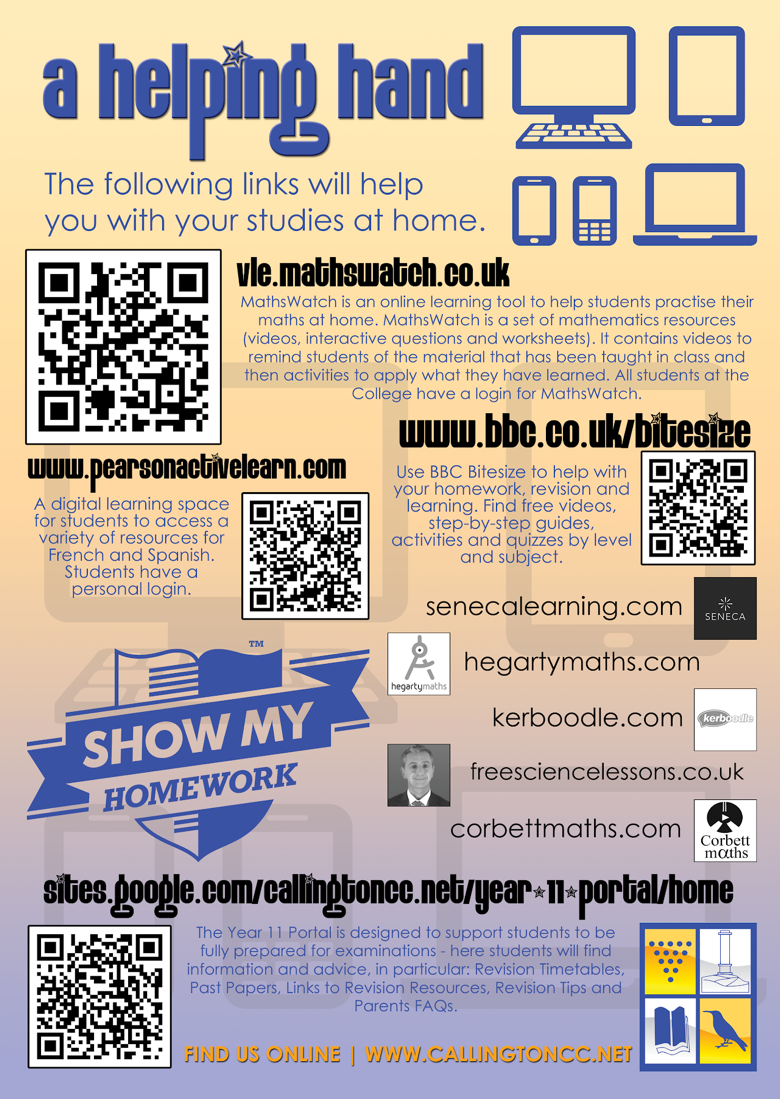 Year 11 Study Portal can be accessed by clicking here.
If you would like more detail and advice around remote learning, please click here.
Please refer to the Curriculum section of the website, or click here to access our full range of Knowledge Overviews.
Digital Access
We recognise that some students may not have suitable online access from home. In the event that a student cannot access their work remotely, a work pack can be collected from reception at the request of the parent or carer of the student concerned. If a student is likely to be absent for a number of days for reasons related to COVID-19, a work pack can be sent home.
What you can do to help
We appreciate that this situation may present some challenges for you. We kindly ask for your support so that we can continue to provide high-quality education for your child during this time. Younger children in particular may need support in accessing online materials and staying focused with their remote learning. We ask that you help them as much as you can.
At the same time, we don't expect you to watch your child all day, but it would be really helpful if you can take an active role in your child's learning by asking them about their day and what they've learned.
Our top tips:
Try to encourage your child to be ready and dressed for the start of the school day, and to keep to their timetable.
Plan breaks and exercise into the day to help keep your child active.
Welfare
At Callington Community College we have the best interests of every student at the front and centre of every decision made. In a situation where a student is not able to attend school for a prolonged period of time it is essential we maintain contact to ensure the student's welfare is monitored and the right support signposted. In the event that a student has a prolonged period of absence, Mr Rob Taylor or a Head of Year will contact parents or carers to explore any possible barriers and options for support.
Support for students with additional needs
We recognise that some students, for example some students with special educational needs and disabilities (SEND), may not be able to access remote education without support from adults at home. We acknowledge the difficulties this may place on families, and we will work with parents and carers to support those students.