Remote Learning
Remote Education Plans (Parents/Carers)
Jan 2021 v1
As you may be aware, schools are required to have a remote learning plan in place so that any child who cannot attend school because of COVID-19 does not miss out on their learning.

This document is designed to share information with students and parents or carers about how we will provide remote education. It is intended to support understanding of what students, parents and carers should expect during periods of school closure relating to coronavirus (COVID-19).
As a College we have continued to build our capability to educate students remotely through upgrades, repairs or replacements to staff laptops. Using existing school systems (Show My Homework, Zoom, GCSEPod and Google Classroom) means remote provision can be put into place quickly and students only need their existing login details of school email and password.
Remote Education Provision
Our remote learning plan has been made with our students and their families in mind. We believe that this strategy will work best for the children at our school.
A summary of our remote learning plan is below. Specific plans may differ depending on the subject. Where this is the case, teachers will be in touch with more information.
In as far as is possible Callington Community College will attempt to replicate the timetable that students follow through the course of a normal school day.
Teachers will make themselves available for teaching during their normal working hours.
We will set work that is of equivalent length to the core teaching students would receive in school, and as a minimum 5 hours a day, with more for students working towards formal qualifications this year.
All instructions and resources for lessons will be posted on Satchel One (Show My Homework) – students may then be directed to other platforms to complete their work.
We are mindful of the challenges of operating in an unfamiliar environment in that:

Online learning operates on a very different dynamic.
Some subjects and activities do not lend themselves well to remote learning - we have needed to make some adaptations in practical subjects such as PE, Drama and Design and Technology where practicals cannot be carried out at home in the same manner as they would be in school.
We received significantly more favourable feedback about distance learning, following our short, forced lock down in November. As many more students received lessons via Zoom in this time, parents and students both felt that learning was more personalised and more impactful. As a result our aim is to provide 'live lessons' for the majority of lessons to give support with the work that has been set – we believe that this face-to-face time with students is invaluable. In addition, a 'check-in' is highly purposeful in providing a social experience, uplifting mental health and being able to check understanding and identify any misconceptions. There may be some situations where staff may not be able to provide a 'live lesson' for example if they are unwell.
Live classrooms enable important interaction between teachers and students through, for example, questioning, eliciting and reflective discussion. These complex teacher skills in the live classroom are not always easy to recreate in a remote environment, but where remote education recreates at least some aspects of this interactivity, teaching is likely to be more effective, support student motivation and lead to better progress.
Learning Resources
During these timetabled lessons, staff will be available online and will set learning tasks and see what students are producing, answer questions and share screens and presentations to explain concepts visually. If parents or carers have any concerns with the rate or pace of work, please contact the Head of Year to discuss further. We are trying to ensure there is sufficient work without under or overwhelming students.
Subject teachers have worked hard to ensure students know how to access these resources and there will be clear expectations and instructions linked to each piece of work. This includes subjects like core PE where, for example, to ensure the well-being and health of students we are uploading videos, fitness guides and a variety of material to support students to maintain their health independently.
We will use a combination of the following approaches to teach students remotely allowing for flexibility.
Live 'Zoom' sessions with teachers and tutors
Voice over presentations
Independent tasks set via Satchel One (Show My Homework) or Google Classroom/Gmail.
Recorded teaching (e.g. Oak National Academy lessons, video/audio recordings made by teachers)
Online learning platforms such as GCSEPod, Kerboodle, Active Learn, Seneca and MathsWatch.
Digital Access
We recognise that some students may not have suitable online access at home. We take the following approaches to support those students to access remote education:
At the point of writing we have arranged for 113 students to access a loaned laptop.
In addition, we have issued devices that enable an internet connection to 8 households.
Should there be any barriers to accessing remote learning, parents/carers are encouraged to contact Deputy Principal, Charlotte Campbell, on ccampbell@callingtoncc.net to discuss requirements.
In order for remote learning to be most effective, it is preferable that students access lessons via a laptop or desktop computer. That said, tablets and smartphones can prove useful too. If your child does not have any digital access, please let us know as soon as possible so that we can help support you. We will provide printed resources where students don't have suitable online access.
Furthermore, the Department for Education (DfE) is working in partnership with mobile network operators to help schools support disadvantaged pupils in Years 3 to 11 who rely on a mobile internet connection when their face-to-face education is disrupted by coronavirus (COVID-19).
Disadvantaged families may be able to benefit from free increases to their mobile data if they're a customer of either:
EE
O2
Sky Mobile
SMARTY
Tesco Mobile
Three
Virgin Mobile
Vodafone
More providers may join the scheme soon.
The amount of data available to families will vary by provider. Data will be increased until the end of July 2021. Schools, trusts and local authorities will be able to request these free mobile data increases for families during the spring and summer 2021 terms if they're experiencing disruption to face-to-face education.
Student Engagement
Student expectations
Students should retain structure to their working day, following their timetable and beginning work at 8.55. Prior to this time and to continue our support and communication with students during a prolonged period of absence, we are running a daily tutor time at the times identified below:

8.20-8.30 – Year 7 & 8
8.30-8.40 – Year 9 & 10
8.40-8.50 – Year 11, 12 & 13

Students should check Satchel One (Show My Homework) in a timely fashion to see the work set for each subject. Teachers will circulate the links the day before a timetabled lesson.
Students are expected to adhere to the College's behaviour policy and standards at all times during all lessons.
Students are expected to adhere to the Student ICT Acceptable Use Policy at all times. An addendum to the Student ICT Acceptable Use Policy which covers expectations during remote learning has been shared with students. In short, students have confirmed the following expectations:

I will not share links to online/live lessons on public platforms such as social media or with anyone who is not intended to be invited to the lesson.
I will not share my screen during a live lesson, unless I am invited to do so by the teacher and I will ensure that there is no inappropriate, personal or confidential information visible.
I will ensure I am dressed appropriately for online lessons for which webcams are in use.
I will ensure there are n inappropriate images/posters in the background for online lessons.
I recognise that I am bound by the same expectations of behaviour as I would be in College including, but not limited to using appropriate language and treating others with respect.
I agree not to make audio/video recordings or take screenshots of staff or students during live or pre-recorded lessons.

Students should complete work to the best of their ability. They should work for the duration of each lesson and then submit their work according to their teacher's instructions.
Students should communicate with teachers using appropriate channels and ask for guidance and support if needed.
Students should meet the deadlines that have been set.
What you can do to help
We appreciate that this situation may present some challenges for you. We kindly ask for your support so that we can continue to provide high-quality education for your child during this time. Younger children in particular may need support in accessing online materials and staying focused with their remote learning. We ask that you help them as much as you can.
At the same time, we don't expect you to watch your child all day, and we wouldn't expect parents/carers to get involved in remote lessons in place of our teachers. But, it would be really helpful if you can take an active role in your child's learning by asking them about their day and what they've learned.
Our top tips:
Try to encourage your child to be ready and dressed for the start of the school day, and to keep to their timetable.
Distinguish between weekdays and weekends, and make it clear when the school day is over, to separate home and school life.
Plan breaks and exercise into the day to help keep your child active.
Welfare
At Callington Community College we have the best interests of every student at the front of centre of every decision made. In a situation where a student is not able to attend school for a prolonged period of time it is essential we maintain contact to ensure the student's welfare is monitored and the right support signposted. The daily tutor time allows for staff to conduct a welfare check each day, ensure all families are contacted daily and provides a positive and supportive start to the student's day that will be appreciated by families. If a student does not attend tutor time for two sessions consecutively, parents/carers will be contacted to explore any barriers to remote learning.
Assessment
Assessment and feedback can take many forms and may not always mean extensive written comments for individual children. For example, whole-class feedback or quizzes marked automatically via digital platforms are also valid and effective methods, amongst many others. Again, the style of assessment and feedback depends heavily upon the subject content being taught and what is right for the students. We are currently introducing a number of new e-tools to support with assessment, e.g., TeacherMade.
Additional support for students with particular needs
We recognise that some students, for example some students with special educational needs and disabilities (SEND), may not be able to access remote education without support from adults at home. We acknowledge the difficulties this may place on families, and we will work with parents and carers to support those students.
Department for Education (DfE)
In developing their remote education, the DfE expects schools to:
teach a planned and well-sequenced curriculum so that knowledge and skills are built incrementally, with a good level of clarity about what is intended to be taught and practised in each subject so that pupils can progress through the school's curriculum.
select a digital platform for remote education provision that will be used consistently across the school in order to allow interaction, assessment and feedback and make sure staff are trained and confident in its use.
overcome barriers to digital access for pupils by:

distributing school-owned laptops accompanied by a user agreement or contract
providing printed resources, such as textbooks and workbooks, to structure learning, supplemented with other forms of communication to keep pupils on track or answer questions about work.

have systems for checking, daily, whether pupils are engaging with their work, and work with families to rapidly identify effective solutions where engagement is a concern
identify a named senior leader with overarching responsibility for the quality and delivery of remote education, including that provision meets expectations for remote education.
When teaching pupils remotely, the DfE expects schools to:
set meaningful and ambitious work each day in an appropriate range of subjects
provide teaching that is equivalent in length to the core teaching pupils would receive in school. This will include both recorded or live direct teaching time and time for pupils to complete tasks and assignments independently, and will be as a minimum:

Key Stages 3 and 4: 5 hours a day

consider how to transfer into remote education what we already know about effective teaching in the live classroom by, for example:

providing frequent, clear explanations of new content, delivered by a teacher or through high-quality curriculum resources

providing opportunities for interactivity, including questioning, eliciting and reflective discussion

providing scaffolded practice and opportunities to apply new knowledge
enabling pupils t receive timely and frequent feedback on how to progress,
using digitally-facilitated r whole-class feedback where appropriate
using assessment t ensure teaching is responsive to pupils' needs and addresses any critical gaps in pupils' knowledge

avoiding an over-reliance on long-term projects or internet research activities.
It may also be that some pupils who have difficulty engaging in remote education may be considered to be vulnerable children, and therefore eligible to attend provision in person.
Replicating the classroom remotely
The Education Endowment Foundation (EEF) has found that the effectiveness of remote teaching is determined by many of the same factors as determine the effectiveness of live classroom teaching. For example:
ensuring students receive clear explanations
supporting growth in confidence with new material through scaffolded practice
application of new knowledge or skills
enabling students to receive feedback on how to progress
These characteristics of good teaching are more important than the medium of delivery, be it in the 'live' classroom or through remote provision (whether or not that remote provision is live or pre-recorded).
We will stick to our Teaching & Learning principles where possible:
Mastery Informed Practice
Rosenshine's Principles
Ethics of Excellence (modelling)
Cooperative Learning (Kagan grouping)
Metacognition
Co-construction
Retrieval Practices / Interleaving
Dynamic Interactions
Effective Questioning
Evidence-based Research
Additional Materials
The College website has a dedicated area to support pupils and parents/carers with remote education – click here.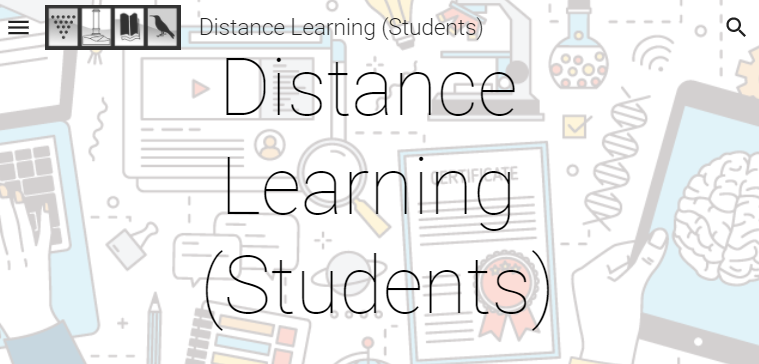 Keeping in Touch
Please keep in touch with us and do let us know if you're having any difficulties with remote learning, or if you have any questions.