Curriculum
Callington Community College Curriculum Intent
We believe that every child, regardless of their background, should be able to fulfil their academic potential and go on to thrive.
Through our pursuit of 'restless excellence' we will deliver a powerful, knowledge-rich curriculum enabling us to widen horizons by providing deep, fulfilling, and memorable experiences. Through our curriculum, staff will inspire challenging goals and chase big dreams for every student so that they can live happy, healthy, and successful lives and make positive contributions within their communities.
Guided by Michael Young's work on powerful knowledge and Ruth Ashbee's work on curriculum theory, we continuously strive to ensure and assure a rigorous and evidence-based approach to designing and delivering our curriculum. Our curriculum narrative is informed by evidential research on cognitive science, memory-models, and metacognitive practice so that we can help our students to remember more and do more. Our strategies for curriculum delivery are influenced by Rosenshine's Principles of Instruction and Skemp's work on Relational Understanding. By using our curriculum as a progression model, we work to make knowledge stick so that it can be used and applied in a variety of contexts and situations and in a way that will open doors and maximise the life chances of our students.
As a College, we are currently focused on the development of our year 7 and year 10 curriculum. This is to ensure that all teachers have a clear and secure idea of progression between each phase of education and can consider how best to sequence knowledge in an all-through knowledge-rich curriculum.
As we continue to develop the curriculum through each year group, students at Callington Community College will expand their knowledge in all areas. They will learn the latest and greatest powerful knowledge to reach their goals and have educational justice. We will achieve this by ensuring that:
Staff understand what powerful knowledge is and can identify it in their subject (not just exam rubric).
All subjects have a deliberately knowledge-rich curriculum which is carefully planned and carried out in a considered manner.
We build a thirst for learning and a love of subjects at KS3 by using varied topics and an innovative curriculum – but that this also provides a good grounding for KS4 and 5.
Each subject area has a clear overview of their planning and rationale, through the use of a curriculum intent document and a curriculum overview
Each department has a dedicated focus on subject specific reading, thinking and research (in some aspect) so that they can be sure they are teaching the most useful and up to date knowledge to our students
Our curriculum is underpinned by our wider enrichment where students can access a wide variety of hobbies and other interests in a supportive and developmental environment. As such, in each discipline, students are prepared for national assessments (and importantly) acquire knowledge from all cultural domains that builds wider cultural capital.
At Callington Community College, we teach our students powerful knowledge so that they can understand and interpret the world and to think in new and unexpected ways.
Please click on each subject heading to navigate through our curriculum offer.
Callington Community College Curriculum Delivery
"A Callington Culture of advancing everyone towards excellence"
At Callington Community College, we aim to provide a broad, imaginative, and creative education. We will widen horizons through ambitious and stimulating lessons which provide rich, fulfilling and memorable experiences. Our lessons will be deliberately outgoing and aspirational, and teachers will set challenging goals and chase big dreams for every student. Learning is at the centre of everything we do and as such we commit to developing the skills of adults and students alike in order to promote a life-long love of learning for everyone.
As a College, we follow a clear set of expectations and a common approach to teaching and learning, so that teachers, parents and carers and students can understand and work towards the highest standards. Our expectations for Teaching and Learning ensure that teachers' planning and practice will be informed by what enables students to learn most effectively and will ensure that teachers hold autonomy in designing bespoke and responsive lessons; meeting the needs of students with SEND will sit at the heart of every lesson and learning opportunity.
We know that certain groups of students are over-represented in the cohort of students who make the least progress, this applies to students with Special Educational Needs and Disabilities and students eligible for pupil-premium funding. These students deserve and require all aspects of planning and teaching to hold a tight focus on meeting their needs through a collaborative and evidence informed approach. It is fundamentally the responsibility of the teacher to lead the learning in their classroom and meet the needs of every student. Children in care; students who are lacking in strong role models or cultural capital and students whose educational history has been disjointed, leading to gaps in knowledge and understanding should also be a priority in planning and delivering inclusive lessons which enable all students to learn effectively.
The Callington Model for Quality Teaching and Learning
Staff will deliver and develop lessons which align with this central model for quality teaching and learning and which adhere to Five Principles of Curriculum Delivery:
High Expectations and Scholarly Environments
Memorable Learning
Quality Teacher Instruction
Guided Practice
Independent Practice and Feedback that Progresses Learning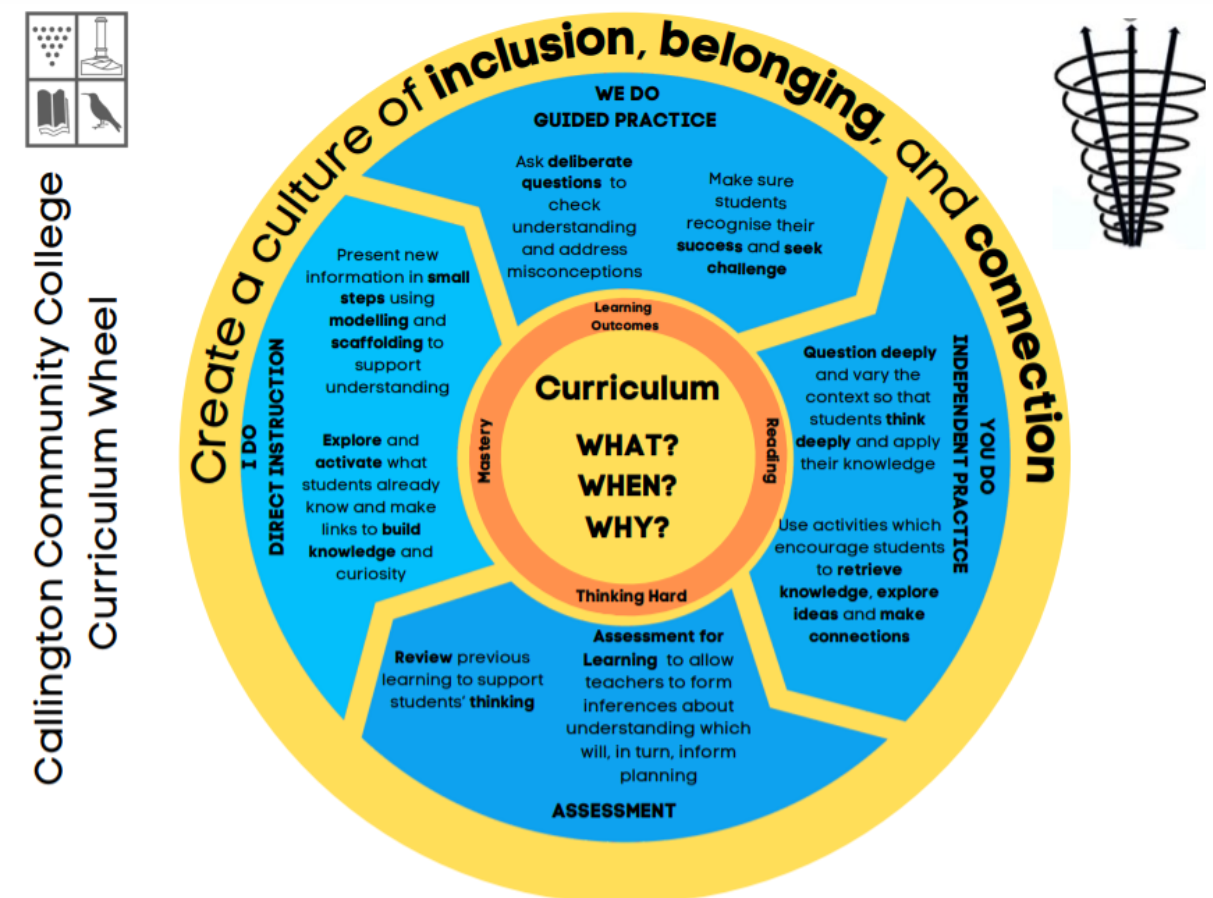 At Callington Community College, teachers will implement strategies which enable them to teach complex material in a way that is comprehensible to all students; where students will develop knowledge and skills which will become embedded in long term memory and strong and well-developed schema will form in their brains. As a result, students will experience deep learning which will empower them in following their dreams and ambitions.
High Expectations and Scholarly Environments

We commit to holding a deep understanding of the complexity in each classroom and will first and foremost commit to understanding how to specifically meet the needs of students with SEND. This will be achieved through using strategies outlined on EHCP (Educational Health Care Plans) and IEP (Individual Education Plans) and through keeping an open dialogue with the SEND team.
Threshold routine and exit routines are consistently delivered in every lesson.
Clear and challenging learning outcomes are shared with students at the start of each lesson.
Date and learning outcome are written and underlined at the start of each lesson.
Get To Work Task (review of previous learning) is completed in silence and lasts no longer than 10 minutes.
Work is well presented, and books are free from graffiti.
'Silence means silence'.
All teachers uphold the expectation that all students can succeed.
Lessons are designed to cultivate students' self-belief and self-esteem, and develop independence.
Agreed 'Learning Behaviours' are clearly displayed, and referred to in lessons.
'Ethic of Excellence' displays are a part of learning; teachers regularly encourage students to take pride in their work and successes by identifying their work as an example of excellence.
Students know what steps to take if they are stuck.
Staff follow the Behaviour policy to support classroom culture.
Praise is given consistently (effort, progress and improvement are recognised).
Teachers develop a logical seating plan to support learning.
The teacher has authority and rapport with the class. They are approachable, empathetic, enthusiastic, humble and lead by example.
Classrooms are calm, welcoming and well-ordered. They are clean and clutter-free with up-to-date displays.
Memorable Learning
Teachers will implement evidence-informed pedagogical approaches that will enable and empower all students to be believe in themselves and foster an intrinsic motivation within each student to succeed.
Teachers understand cognitive load and recognise and fill gaps in prior knowledge.
Key words (tier 2 and 3) are displayed and referred to in every lesson.
A range of teaching styles is used over time to ensure lessons are engaging and impactful.
Specific strategies aimed at supporting the understanding of students with SEND are used.
Students understand the purpose, direction and context of their learning through clear learning outcomes.
The most effective learning strategies are modelled in lessons: concrete examples, dual coding, retrieval, interleaving, elaboration and spaced practice.
Learning support staff are informed of their role in ensuring inclusive lesson delivery. Adapted/additional resources are provided as appropriate.
There is use of frequent, low-stakes testing to strengthen memory.
Every teacher considers their role in developing literacy and oracy, extending vocabulary and encouraging talk.
DEAR Time is used to develop a love of reading.
Quality Teacher Instruction
Teachers show extensive knowledge of the subject and skills they teach, beyond the level of the students.
Subject knowledge has real-world relevance, contemporary relevance and is up to date.
Subject specific language is be used consistently and explicitly shared in a variety of ways.
Teachers anticipate what students will find challenging and plan accordingly.
Teachers demonstrate flexibility in their explanations/delivery.
Teachers model and narrate their thought process as part of their explanation.
Teachers anticipate and identify misconceptions and correct these in a timely and supportive way.
Questioning is frequent, highly interactive, dynamic and responsive.
Guided Practice
Questioning is used to identify pupil misconceptions and connect their learning.
Tasks are scaffolded to ensure 'high challenge – high support'.
Scaffolding is designed to move students towards independence and is gradually faded.
Teachers continually monitor and support students' thinking during practice.
Teachers plan for high quality talk.
Subject specific vocabulary is modelled.
High quality, challenging texts are used to support learning.
Independent Practice and Feedback that Progresses Learning
There is a purposeful working atmosphere.
Independent practice includes the same material as guided practice.
Students are continually monitored to check that all students are successful.
Students have the opportunity to work collaboratively with their peers within a framework.
Feedback is integrated into lessons and planned for using pedagogical knowledge and understanding.
Students can explicitly describe their next steps as a direct result of precise and immediate feedback.
Students are given the opportunity to respond to their feedback, make improvements and ask questions.
Feedback matters (especially to our most disadvantaged students and students with SEND). Feedback is the critical element in supporting the development of our least successful learners. Students can find it difficult to take on feedback for things they find difficult, therefore, feedback must be considered and planned for from a pedagogical and relational perspective and sit in-line with the whole school feedback policy development.