Primary Tag Rugby Festival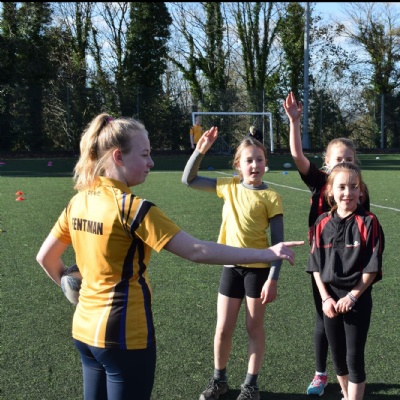 On Wednesday 8 November students from Callington Community College led a Primary Tag Rugby Festival for Year 4, 5 and 6 students.
The students from Year 10 were completing the festival as part of their BTEC Sport course where they have been exploring the roles of sports leaders.
Pupils from Stoke Climsland and Calstock Primary schools attended the event were there was an emphasis on rugby's core values of Teamwork, Respect, Enjoyment, Discipline and Sportsmanship. The Year 10 students were fantastic and modelled rugby core values brilliantly. Callington students also lead fun engaging session for the primary pupils that developed their passing, tagging and ball handling skills. The festival was a real success with Tina Lidicott from Calstock stating that their pupils had a really enjoyable day, and thank you to all the students for organising a successful event.
Well done to the following students for representing the College in such a positive way. Kieran Bainbridge, Logan Coombes, Lydia Barsby, Callum Congdon, Issac Fentiman Pavey, Kieran Halliwell, Katie Jones, Kacey Jasper, Lillie Fentiman, Josh Elias, Emma Maunder, Toby Wallace and Joe F.