Online Safety Event - November 17 2016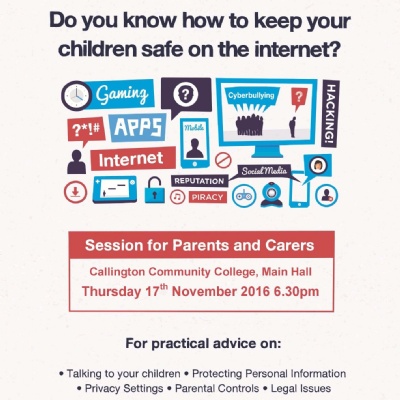 Here at Callington Community College we are always keen to ensure the happiness and safety of our students and this includes on the internet. Many of our students today are engaged with technology in a wide variety of ways. As well as using the internet for education, they also play games, socialise and invest a lot of their personality in the social and ever changing place that is the online world.
Your child is likely to use technology in college and at home. In college we endeavour to provide the skills to navigate the online world and safety is a very important part of that. In order to help parents understand ways in which they can provide the same support at home, we will be running a parents evening on Internet Safety on Thursday 17 November at 6.30pm. Doors open at 6.15pm with refreshments available.
This evening will be an engaging session of 1½ hrs run by an expert, Mr Peter Bower, from The South West Grid for Learning (SWGfL), part of the wider UK Safer Internet Centre.
There will also be other useful information available to parents on a wide range of issues relating to helping young people stay safe, and the support services that are available locally and nationally.
So that we have an idea of numbers to cater for resources and refreshments, I would be grateful if you could confirm your attendance by clicking here or visiting https://goo.gl/forms/fTDu6J4tqE1CB6CI3 by Tuesday 15 November.
I look forward to seeing you on the 17 November.