Year 7 County Football Champions!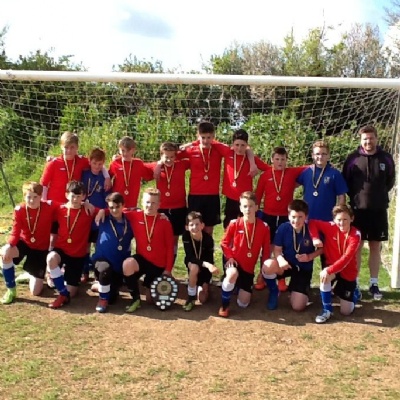 CALLINGTON 4 MOUNTS BAY 0
The season ended in fine style with Callington Year 7's winning comfortably in an entertaining Cornwall Schools' FA County Cup Final at Wadebridge football club. The boys have finished the season unbeaten; playing 6, winning 6, scoring 35 goals and only conceding 5.
They started superbly in the final winning every tackle and dominating possession. A strike from range from Finn H put Callington 1-0 ahead with Liam R in centre midfield controlling play and scoring a great second goal.
The second half saw Callington playing up hill and into the wind. The boys showed amazing resilience and calmness under pressure and increased the lead to 4-0 with two further goals from Finn H, the third being a strike from half way.
Mr Hazeldine, team manager said, "All 16 boys in the squad played a vital part in the final and the team spirit and sportsmanship has shone through right from the first training session. They are a credit to themselves and the school and I'm proud of every one of them."