GCSE results - a testament to the dedication and resilience of our students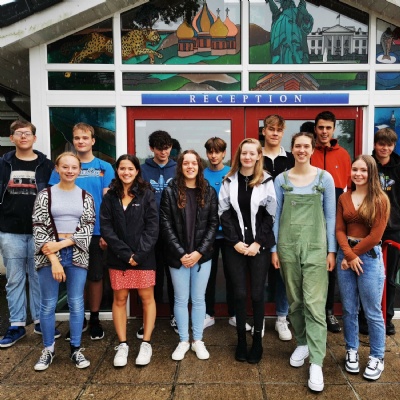 We are absolutely delighted with the results awarded to our 2021 cohort. They are an absolute testament to the dedication and unrelenting efforts of our student body and staff.
These last two years have been extraordinary and you simply cannot afford to underestimate the impacts of two lock down periods; the motivation and resilience required to still attend lessons focussed and alert and to complete assessments in those conditions is hugely significant. Mrs Wendy Ainsworth commented, "I couldn't be prouder of our students and their results. These last two years of their academic studies has been so hampered by lock down periods, unknowns in the first term about examinations and the processes that would follow and the significant impacts on mental health caused by social isolations and unknowns. To have the fortitude to cope with these constant distractions and then furthermore, to complete many, many assessments in a narrow window to provide the necessary evidence for grading is quite simply extraordinary and they absolutely deserve to feel proud and accomplished."
This year sees further improvements for Callington Community College with an increasing number of top Grade 9s awarded, as well as more students achieving English and Maths at grade 5 and above and a greater number of grades awarded at Grade 7 (an old A grade) than previously. Mrs Ainsworth commented' "It's really important that these grades are properly recognised and are not dismissed as being part of the nature of teacher assessed grades. The children truly earned these through their revision, work ethic and commitment to study. I am also really grateful to the teaching staff, who have worked tirelessly over the last two years to improve results by being committed to understanding how learning happens and how long term memory is key to this process."
There are particular stand out mentions to the following students; Poppy Hearne, Kerenza Selman, Lauren Hocking, Tegan Young, Rosie Matthews Brown and Lizzie Matthews Brown who earned a staggering number of 32 Grade 9s between them. Poppy achieved 9 Grade 9s! The following students all achieved the top grades also; Billy Doidge, Millie Vine, Finley Harrison, Neve Hunn, Christian Hylands-Thorpe, Jonathon Banfield-Earp, Sam Kitchen and Ben Pitman. Whilst high academic outcomes are always desirable, progress is also important and there are additionally students who have made a staggering amount of positive progress, who include Megan Coombe, James Dawe and Jack Spurr all of whom performed at least two grades higher than would have been predicted based on their prior attainment. One special shout out also goes to Niamh O'Shea with grade 9s in History, Art and Photography, and who now goes on to study the Arts at A level.
There are also outstanding results in the vocational qualifications also with 14% of grades awarded at the top level of Distinction Star.
Mr Aird (Head of Year) added, "I am so proud of this year group and what they have achieved in a very difficult climate. They are a real credit to the College and I am so glad that so many of them are continuing their studies with us. Their achievements thus far, in these unique circumstances will certainly put them firmly on the right path for further success."
Tom Godwin, chair of governors, added, "The College continues to go from strength to strength. The work of staff to support all of its youngsters through these challenging times has been incredible. They have never lost focus or determination to do the right thing by the children and now they have the results to demonstrate the merit of their efforts. A massive well done to both the students and the staff."