Zero Gravity in Bath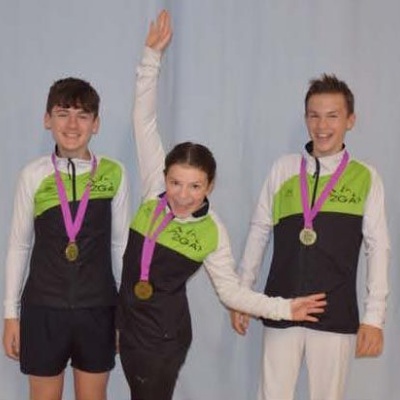 Students from Callington Community College headed to Bath last weekend for the first round of Grading and South West Squad Qualifier.
Dylan Rundle and Arran Stannard-Heap from Year 9 and Yasmin Rundle from Year 7, along with other team mates from their trampoline club Zero Gravity, headed to Bath university for this season's first grading session and qualifier for the South West Trampoline Squad.
Yasmin was first on from her club and was entered into the National Development Programme (NDP) Level 2. She has been working very hard and with the new changes and new routines met the challenges with gusto. She won Gold.
For Dylan this was his very first grading having worked very hard over the past few months. He was entered into his (NPD) level 1. He won Gold.
Next up was Arran Stannard-Heap who was entered into the NDP Level 5, no mean task this routine with some incredibly complex moves. He was also rewarded for his efforts with Gold.
All three were entered into competitive classes with all having many entries. Their hard work and determination has seen the above incredible results. The grading allows them to try out for the South West Region Squad. If successful they will represent the South West at the National Development Regionals in April 2019. Fingers crossed for them all.
The next endeavour for these three, along with Millie, in Year 9, is the National Schools Trampoline Competition First Round, Regionals, which is in Taunton in November. They will be representing the College in this competition.
Congratulations to all students involved and good luck for the next competition!