Staying Safe as a Young Adult - an Extended Assembly for Sixth Form Students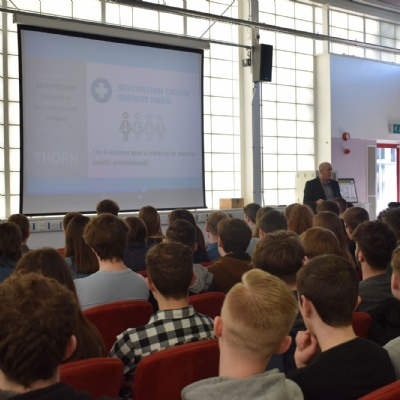 Paul Northcott, a retired senior police officer, visited the Sixth Form Centre on Thursday 22 February to deliver an extended assembly based on staying safe as a young adult.
Key information, advice and guidance was shared around staying safe online, radicalisation, terror attacks, safe and healthy relationships, bullying and banter and making good and positive life choices.
A Year 13 student commented, 'I found the assembly very interesting, relevant, helpful and informative', while a Year 12 student said, 'The assembly was helpful as it gave me good advice and guidance on how to stay safe within our society, especially online'.
Mr Yendell, Head of Sixth Form, commented 'Thank you to Paul for giving up the time to come and present to our Sixth Form students on the many issues that they are exposed to and how they can remain safe both now and within their futures. The information shared was thought provoking and the advice and guidance provided will hopefully ensure our students are more aware of these key issues and they now know who to turn to and how to deal with it'.